Oranges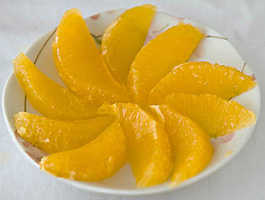 Originally native to South-east Asia, oranges are now widely grown in temperate climates all over the world. There are many varieties, both bitter and sweet; the former being used predominantly in marmalades or in recipes such as the classic French dish, duck à l'orange.
Sweet oranges can be eaten fresh or squeezed for the refreshing juice, perfect at breakfast time; they can also be used in sorbets, for baking or added to meat stews and soups. Juicing tip: When cutting the orange in half, try cutting it at a slight angle if you are manually juicing ~ it seems that it's easier to squeeze more juice out of it!
The zest of the orange can be used in cooking or for decoration. Scrub, wash and dry the orange first and then zest using a very fine grater, a zester or peel the skin, making sure that you don't take any of the bitter white pith.
Oranges can be segmented by removing the skin, pith and membranes from the fruit. This is perfect for great visual presentation. Watch the video on the right presented by FineCooking.com
When buying oranges, look for fruit that feels heavy and has tight skin. Store at room temperature for a few days, after that you can keep them in the fridge.
Different types of oranges ~
Blood ~ Aromatic oranges characterised by the reddish tinge to the flesh and skin.
Sweet ~ Such as Valencia oranges; smooth, firm skin with quite a few seeds, they are ideal for juicing.
Navel ~ This orange has a depression at its base, rough skin which is bright in colour and is invariably seedless.
Bitter ~ Such as Seville oranges which are perfect for making marmalade and jellies. The rind is thick, the membrane tough and it has lots of seeds.
Take a look at the recipes for Citrus Marmalade, Slow-cooked Beef Shin with Orange and Spicy Butternut Soup.