Slow-cooked Beef Shin with Orange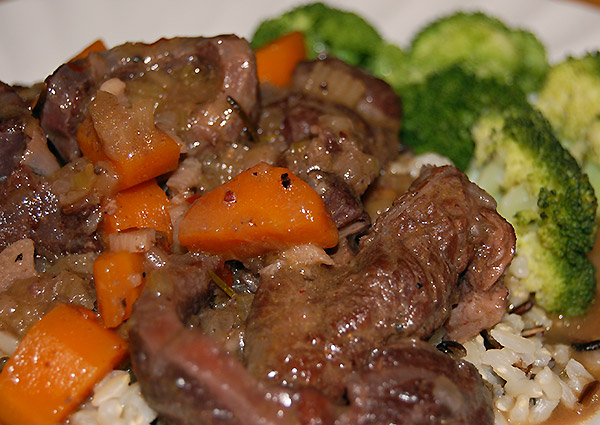 9th July 2018
Beef shin is an inexpensive cut of meat but long, slow cooking produces a surprisingly tender result, expecially if the shin is thickly sliced. With food becoming more expensive every day, it's great to have an option which is inexpensive, tasty and easy to cook. This is a hearty winter dish that can be cooked in advance.
Ingredients for the Casserole
2 tablespoons of olive oil
Small knob of butter
1 bay leaf
¼ teaspoon dried rosemary
± 1kg of good quality beef shin, thickly sliced
1 onion, evenly diced
3 medium leeks, washed, trimmed and finely sliced
1 large celery stalk, peeled and finely sliced
1 large carrot, peeled, quartered and chopped
3 cloves of garlic, peeled and sliced
1½ teaspoons ginger powder
1 teaspoon each of coriander powder and cumin powder
¼ teaspoon dried chilli flakes, optional
1 tablespoon tomato paste
1 cinnamon stick
250ml orange juice
250ml red wine
750ml chicken stock or water
Method for the Casserole
Trim the beef well and season.
Heat the olive oil, butter and herbs.
Brown the meat in batches until caramelised and golden.
Remove and drain on paper towel.
Add the vegetables to the pot, except the garlic, and cook until golden ~ approximately 5 minutes.
Add the garlic and then the spices and tomato paste and cook for a further 2 - 3 minutes.
Return the meat to the pot together with the orange juice and wine.
Increase the heat and boil off the alcohol in the wine ~ approximately 3 - 5 minutes.
Add the stock or water and bring to the boil.
Reduce to a simmer, cover and cook for 1 hour.
Remove the lid and cook for a further 25 - 30 minutes.
Ingredients for the Gremolata
Zest of an orange
1 handful of finely chopped, fresh coriander
1 clove of garlic, finely sliced
Method for the Gremolata
Mix all the ingredients together and loosen with a little olive oil.
Serving
Serve the casserole with with plain rice and the gremolata on top. Add some steamed veg or a green salad on the side.
Notes
EASY
Preparation: 10 - 15 minutes
Cooking: Approximately 2½ - 3 hours including browning the meat
Wheat-free
Allergens: None
4 servings
Tips and Ideas
Remember to use a good casserole pot, which retains the heat well. I prefer to use a heavy-based, cast iron pot which distributes the heat evenly.
Use flat-leaf parsley instead of fresh coriander for a more conventional gremolata.
Use fresh herbs and spices instead of dried.