Wheat-free, Toasted Muesli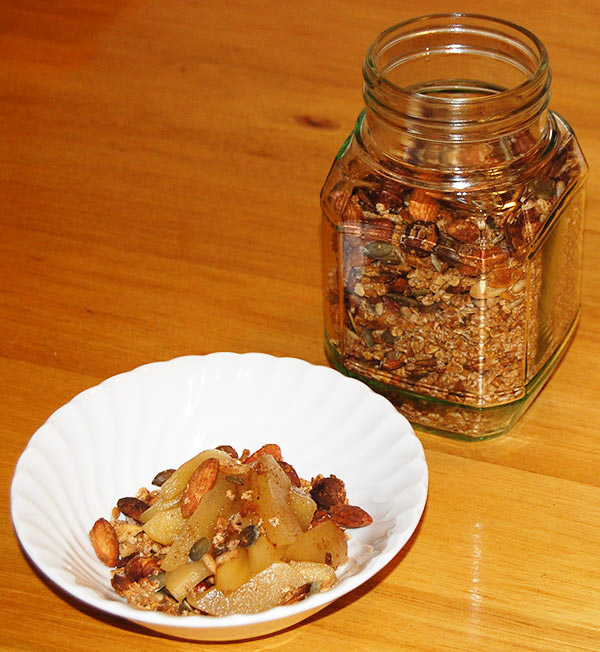 Wheat-free, toasted muesli
25th October 2015
A delicious, toasted muesli made with raw oats, golden honey and crunchy nuts & seeds. Serve with a dollop of Greek yoghurt and add some chopped, fresh fruit such as berries or banana, for a perfectly healthy start to your day.
Dry Ingredients
250ml oats
125ml dessicated coconut
125ml raw, whole almonds
125ml raw, whole hazelnuts
125ml sunflower seeds
80ml pumpkin seeds
80ml flaked almonds
10ml ground cinnamon
5ml ground mixed spice
1¼ml ground nutmeg
Wet Ingredients
60ml apple / apricot / orange juice
5ml vanilla extract
125ml (a little less) runny honey
Small pinch of salt (optional)
Method
Switch on the oven to 180°C.
Prepare a large, shallow baking tray by greasing with a thin layer of light vegetable oil and removing any excess.
In a large mixing bowl, combine all the dry ingredients.
In a separate bowl, mix the wet ingredients, stirring well until all the honey dissolves.
Pour the wet ingredients into the dry ingredients and combine until thoroughly moistened.
Turn the mixture onto the prepared baking tray and spread in a thin, even layer.
Place in the oven for 20 to 25 minutes, stirring thoroughly half-way through the cooking time.
Allow to cool completely before sealing in air-tight jars.
Keep for up to two weeks.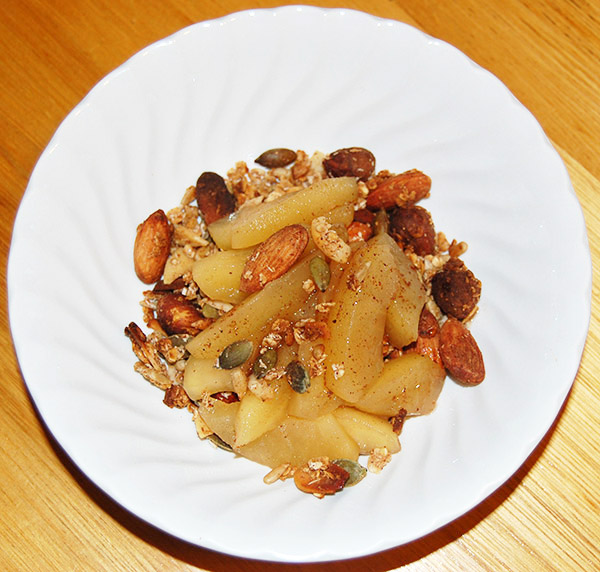 Wheat-free, toasted muesli with spicy, stewed apple
Serving toasted, wheat-free muesli
This muesli is delicious served with thick, Greek yoghurt or a splash of milk.
Grated apple, chopped strawberries and / or bananas add a fresh, sweet taste.
Add a handful of raisins or chopped, dried apricots for variation.
Or try it with some Spicy, stewed apple.
Sarah's Tips for the best wheat-free muesli!
I store my nuts and seeds in air-tight jars on the top shelf of my fridge in order to prevent the oils from becoming rancid.
Try a different combinations of nuts such as pecans, walnuts or cashews.
Nuts and seeds must always be raw and unsalted.
I add a small pinch of salt to the wet ingredients (so that it dissolves properly) in order to enhance the flavours.
Line your baking tray with baking paper so that it is easier to tip the muesli into jars once it has cooled down.
Notes
VERY EASY
Preparation: 10 - 12 minutes
Cooking: 25 minutes + cooling time
Wheat-free
Vegetarian
Allergens: Gluten, nuts
12 - 14 servings
NB: This wheat-free muesli does contain gluten (oats) and is therefore not gluten-free.