10th July 2014
A creamy, delicately flavoured soup with a hint of aniseed. It's an excellent way to use up the fennel stalks, which usually seem to be left behind! For a heartier meal, add some chopped, left-over roast chicken, lamb or beef.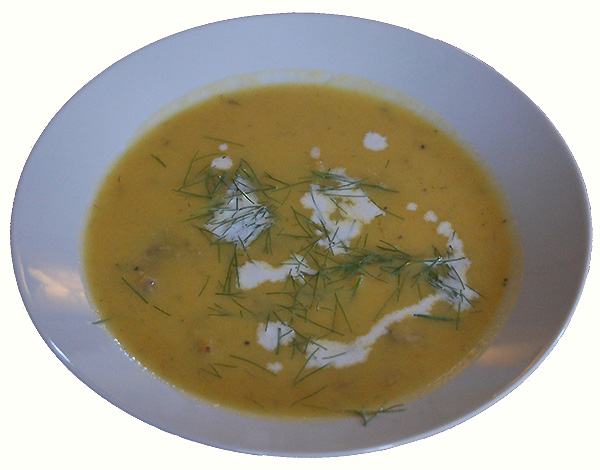 Ingredients
1 tablespoon of olive oil
1 onion, diced
2 medium potatoes, peeled and chopped
2 large carrots, peeled and diced
8 fennel stalks, chopped and the feathery fronds removed and reserved
½ teaspoon of fennel seeds, lightly crushed
1.2l homemade chicken stock
60ml of cream
Salt and freshly ground black pepper
Method
Heat the olive oil in a saucepan.
Add the onion and fry gently until translucent.
Add the lightly crushed fennel seeds and cook for a couple of minutes.
Add the rest of the vegetables and cook for a few minutes.
Add the chicken stock.
Bring to the boil, then reduce to a gentle simmer.
Half cover and cook for about about 35 minutes until all the vegetables are tender.
Allow to cool slightly and then blend until smooth.
Add the cream and adjust the seasoning, if necessary.
Serving
Serve sprinkled with some of the chopped, reserved feathery fronds and for extra indulgence, you can add a few extra drops of cream.
Wine: Medium Cream or Pale Dry Sherry
Suggestions
Add chopped, left-over roast chicken, lamb or beef for a heartier meal
Replace 250ml of the stock with fresh orange juice and add some zest when serving
Notes
VERY EASY
Preparation: Approximately 10-15 minutes
Cooking: Approximately 35 minutes
Wheat-free
Allergens: Cream
Serves 4