9th July 2014
An easy and very tasty recipe using basic pantry ingredients. Simply prepare the marinade, pour over the chicken and leave for a few hours. Bake in the oven and serve. You can adjust the spice according to taste, making it hotter or milder depending on your preference. This is a crowd-pleaser every time!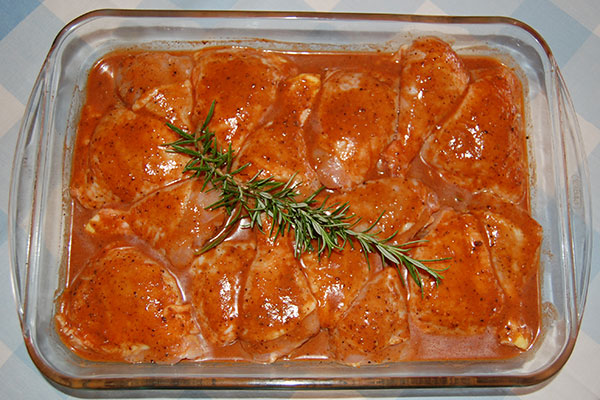 Ingredients
1kg chicken pieces, preferably thighs and drumsticks
1 large sprig fresh rosemary
Black pepper
Marinade
2 tablespoons olive oil
3 tablespoons sherry
Juice of 1 lemon, include the zest if you wish
1 tablespoon organic Tamari (wheat-free soy sauce)
1 teaspoon Worcestershire sauce
4 tablespoons commercial tomato sauce
1 tablespoon honey
2 teaspoons ginger
1 teaspoon paprika
2 teaspoons smoked chilli flakes - optional
Method
Mix all the marinade ingredients together.
Arrange the chicken pieces in a single layer in a suitable baking dish.
Pour the marinade over the chicken, making sure that all the pieces are evenly coated and add the rosemary sprig.
Cover and put in the fridge for an hour or overnight.
When you are ready to cook, take the chicken out of the fridge and bring it to room temperature.
Heat the oven to 180°C.
Season the chicken lightly with black pepper, cover and bake in the oven for 30 minutes.
Remove the lid and check that there is enough liquid in the dish. If not, add a little chicken stock or water to ensure that the chicken does not dry out or burn.
Cook for approximately 20 - 30 minutes more, until the chicken is well-browned and the juices run clear.
Remove from the oven and leave to rest for approximately 10 minutes before serving.
Serving
Serve with basmati rice or a crispy, baked potato and some steamed green veg or a fresh, mixed salad.
Wine: A chilled fruity / off-dry white wine like Boschenal Le Bouquet
Notes
VERY EASY
Preparation: 8 - 10 minutes + time to marinate
Cooking: Approximately 1 hour
Wheat-free ~ provided you use Tamari
Allergens: None
Serves 4 - 6
Sarah's Tips
Be careful about adding too much seasoning to this recipe ~ Tamari or soy have a high salt content.
I blitz all the marinade ingredients with a stick blender. This emulsifies the mixture but it is not essential and you can just whisk everything together if you prefer.
The minimum time to marinate the chicken is 30 minutes. If this is all the time you have, then don't put the chicken back in the fridge otherwise it will not come up to room temperature quickly enough.
However, the longer the meat marinates, the better because the flavours have longer to infuse the meat. Also, the acidity from the lemon will break down the fibres in the chicken making it very soft.