Rich Tomato Sauce for Pasta
9th July 2018
A rich and tasty tomato sauce to toss with fusilli, penne or your favourite pasta. The longer the cooking time for the sauce, the richer and more flavoursome it becomes. If you're a bit pressed for time, reduce the liquid ingredients and cook accordingly.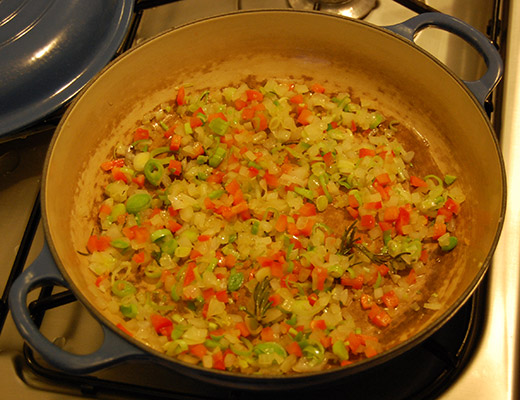 Ingredients
1 - 2 tablespoons olive oil
A few small sprigs of fresh rosemary
1 onion, finely diced
1 medium, or 2 small leeks, finely chopped
½ a large red pepper, finely chopped
2 - 3 cloves of garlic
400g tin of whole tomatoes with their juice + 1 - 2 fresh tomatoes, blitzed with a blender stick
2 bay leaves
4 - 5 sundried tomatoes, finely chopped
8 - 10 Kalamata olives, stoned and sliced
1 teaspoon baby capers, rinsed
160ml red wine
160ml chicken stock
Salt and freshly ground black pepper
Method
Heat the oil in a heavy-based pot
Add the onion, leeks and red pepper and sweat for 5 - 8 minutes
Add the garlic and cook for a minute or two
Add all the tomatoes
Add the rest of the ingredients, including the seasoning and stir well
Bring to the boil, then reduce to a simmer and ½ cover
Stir the sauce periodically
Bring the water to a boil and cook your pasta according to the packet instructions
When the sauce has reduced and it's quite thick, it's ready to toss through the drained pasta and serve
Serving
Use any short pasta ~ this will hold the sauce better than a long pasta ~ and toss together with the sauce. Drizzle over a little olive and sprinkle with freshly chopped, flat-leaf parsley and a good grating of Parmesan or Grana Padano cheese. You can add a crisp, fresh green salad on the side.
Wine: Any good, medium-bodied red wine, preferably the same as in the sauce or perhaps a crisp Sauvignon Blanc if you favour white wine.
Suggestions
You could try adding some diced bacon along with vegetables at the beginning of cooking.
Stir in a couple of handfuls of baby spinach towards the end of the cooking time.
Alternatively, stir in a tin of tuna towards the end of cooking for a more substantial sauce and top with some crumbled feta instead of the Italian cheese.
Notes
VERY EASY
Preparation: Approximately 15 minutes
Cooking: Approximately 1 hour, less if you reduce the liquid ingredients
Wheat-free
Allergens: None
Serves 2 - 4