Ingredients
• 385g gluten-free flour
• 50g dried milk powder
• 1 teaspoon bicarbonate of soda
• 1 rounded teaspoon gluten-free baking powder
• 1 teaspoon salt
• 1 rounded teaspoon xanthan gum
• 2 tablespoons honey / 1 tablespoon Demarara sugar
• 1 large, free-range egg, beaten
• 300 – 350ml buttermilk
• 1 tablespoon olive oil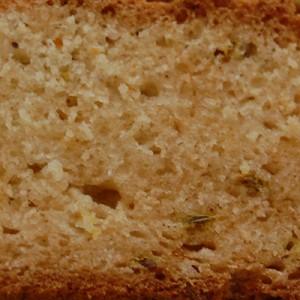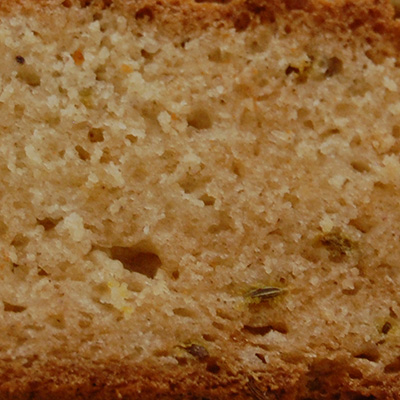 Gluten-free Soda Bread with Rosemary
Method
1. Make sure that the egg and buttermilk are at room temperature.
2. Pre-heat the oven to 230°C.
3. Prepare a lightly oiled baking sheet dusted with a little gluten-free flour.
4. Sift all the dry ingredients together into a bowl then lift the mixture, letting it run through your fingers so that as much air as possible is introduced. This helps to ensure a lighter finish to your bread.
5. In a measuring jug, stir the honey into the buttermilk until well-combined.
6. Using a whisk, beat the egg in a bowl, slowly adding the buttermilk and honey mixture making sure that it is smooth.
7. Make a well in the centre of the flour mixture.
8. Coat your hands in olive oil ~ I find that the mixture doesn't stick quite so much ~ and then pour in the buttermilk mixture, using your fingers in a circular movement to draw in the flour from the sides.
9. Once the flour and buttermilk mixtures are combined, you should have a sticky, soft dough.
10. Do not over-mix otherwise the bread will become heavy.
11. Scrape off any excess mixture from your hands and then pour over the tablespoon of olive oil.
12. Lightly mix ~ the oil should coat the mixture making it slightly easier to work with.
13. Turn the mixture onto the baking sheet and shape.
14. Bake for 5 minutes at 230°C and then drop the temperature to 180°C and bake for a further 25 – 30 minutes.
15. The bread is done when it is a deep golden brown and sounds hollow when the surface is tapped.
16. Place on a wire rack to cool.
Comments & Suggestions
• The dough is quite sticky and unlike wheat-based, yeast-based dough. I like to put oil on my hands so that it is easier to work with.
• Do not add all the liquid at once because if you add too much, the dough becomes very sticky and wet ~ very difficult to handle.
• I don't score the loaf because it doesn't rise as well and, if you do, you will need to cook it a little longer; also you lose some of the lovely crust.
• You can add any of the following to the dry ingredients ~
> 2 teaspoons of caraway seeds
> 1 – 2 tablespoons of freshly chopped rosemary
> 125ml of golden sultanas
> 80ml toasted sunflower seeds
Notes
EASY
Preparation: Approximately 15 minutes
Cooking: 30 – 35 minutes + cooling time
Wheat-free
Vegetarian
Allergens: Egg, lactose
Makes 1 loaf, approximately 750g