Gluten-free Dark Chocolate Cake
25th October 2015
This Gluten-free dark chocolate cake is absolutley delightful, decadent, delicious! This chocolate cake is very rich, using three slabs of chocolate, and remains fresh and moist for a couple days even though it uses gluten-free flour. It's very easy to make ~ you put everything in a bowl and mix for a couple of minutes, spread into two tins and bake. The trickiest bit is melting the chocolate for the ganache but following a few specific instructions will result in perfectly melted chocolate every time. This cake will easily serve 8 people, as a small slice goes a long way.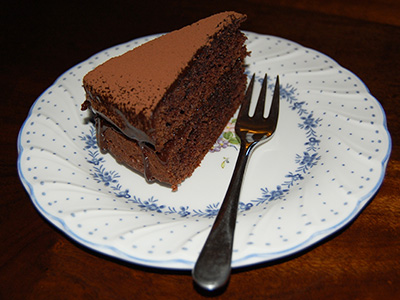 Rich, moist, gluten-free chocolate cake
Cake Ingredients
175g butter, softened at room temperature
185ml caster sugar
3 large eggs, at room temperature
185ml gluten-free flour, sifted
1 teaspoon gluten-free baking powder, sifted
2 tablespoons good quality cocoa powder, sifted ~ use Nomu Cocoa Powder
2 teaspoons vanilla extract / essence
100g dark chocolate, chopped ~ I use Lindt's 70% chocolate slab
Ganache Ingredients
160 – 200g dark chocolate
125 – 150ml whipping cream
60g butter
Preparation
Grease and line the bases of two 20cm / 8″ round sandwich tins.
Pre-heat the oven to 180°C.
Cake Method
Chop the dark chocolate into small to medium chunks ~ the chunks give the cake a delightful texture. If they are too small, they will melt and if they are too big, you won't be able to cut the cake nicely.
Put the butter, caster sugar, eggs, flour, baking powder, cocoa powder and vanilla in a bowl and beat for about 2 minutes until the mixture is smooth and creamy.
Divide the mixture between the two tins and scatter the chopped chocolate pieces, lightly pressing them into the mixture.
Level the surfaces and bake in the pre-heated oven for 25 minutes or until firm to the touch.
Allow to cool slightly and then transfer to a wire rack to cool completely.
Ganache Method
Place a clean, dry bowl over a pan of simmering water.
Make sure that the bowl does not touch the water.
Break up the chocolate and add to the bowl with the butter and cream.
Stir constantly until the mixture is smooth and well-combined.
Remove the chocolate mixture from the heat and allow to cool slightly ~ do not allow to cool completely otherwise you won't be able to spread it.
Assembly
Use a portion of the chocolate to sandwich the cakes together.
Spread the rest of the ganache over the top of the cake allowing it run down over the sides ~ work from the centre of the cake outwards for a more even spread.
Serving
Dust the cake with cocoa powder and serve small slices with good quality, strong tea or filter coffee.
Notes on the Gluten-free Dark Chocolate Cake
EASY
Preparation: Approximately 15 minutes
Cooking: Approximately 25 minutes + cooling time
Finishing: Approximately 15 minutes
Wheat-free, Gluten-free
Allergens: Eggs, lactose, possibly nuts depending on where the chocolate is made
Serves 8 – 10