Fruit Ingredients
• 500g cake mix
• 250ml sticky brown sugar
• 125ml / 60g chopped dates / candied peel
• 125g butter
• 250ml apricot juice
Method for Fruit Ingredients
Boil gently for 20 minutes.
Allow to cool slightly.
Add 5ml Bicarbonate of Soda, sieved.
Allow to stand overnight.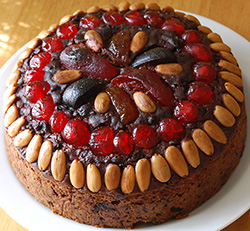 Rich and fruity Christmas Cake

Lining the tin
Line the outside with 2 layers brown paper / newspaper
Tie with string / hold together with paper clips
Line the inside with 4 layers of tin foil; cut at bottom to fit tin
Add a double layer of greaseproof paper cut as above
Cut three rounds each of foil and paper
Tips
Cut out round of paper to design fruit & nut layout
Add 1 teaspoon ginger / allspice for a spicier taste
Notes
MODERATELY EASY
Preparation: 45 – 60 minutes, includes cooking the fruit and preparing the tin
Cooking: 2½ hours
Allergens: Gluten, wheat, nuts, egg
Cake Ingredients
• 125ml brandy
• 125ml glacé cherries, chopped
• 100g pecan nuts, chopped
• 2 extra large eggs, beaten – at room temperature
• 500ml cake flour
• 1 teaspoon baking powder
• ½ teaspoon salt – this is most important because it helps the cake to rise
• 1 tablespoon cocoa
• 1 rounded teaspoon mixed spice
• 1 rounded teaspoon cinnamon
Making the Cake
Heat oven to 160°.
Add the brandy, cherries and nuts to the fruit mix.
Fold in the beaten eggs.
Sift the dry ingredients together and fold into the fruit mix – the mixture should be moist without being wet & sloppy.
Turn into a 20cm round or 18cm square cake tin.
Decorate the top of the cake with glacé fruit and nuts.
Put 2 bowls of water in the bottom of the oven – this will ensure that the cake doesn't dry out or burn.
Put the cake in the oven for 10 minutes at 160°.
Drop the oven temperature to 150°.
Bake the cake for 2½ hours.
After 1½ hours, cover the cake with a round of tin foil, shiny side up, to prevent burning.
Remove cover after 2 hours and start testing the cake.
When a skewer inserted comes out clean, remove the cake from the oven.
Cool the cake in tin.
Before closing up the foil & paper, sprinkle with 4 tablespoons brandy.
Shopping List
• 200g nuts as follows ~
100g pecans for the cake mixture and
100g almonds for decoration
• 200g cherries as follows ~
100g for the cake mixture and
100g for decoration and / or
• 200g mixed glacé fruit for decoration ~ optional