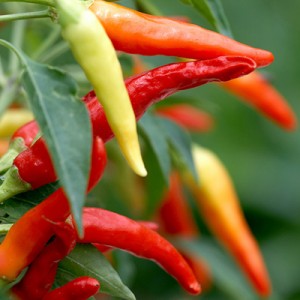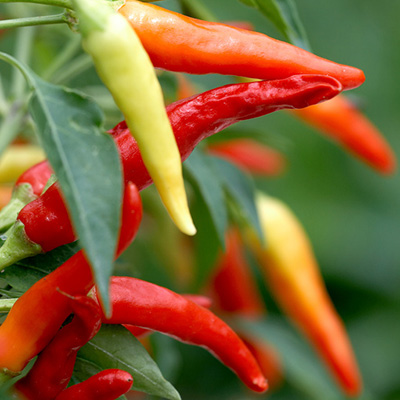 Chillies
Chillies originated in Central and South America and belong to the Capsicum family as do sweet peppers. After the arrival of Christopher Columbus in the 15th Century, they spread across Europe and South-East Asia. Today, India is the largest producer of chillies in the world.
Chillies are not just hot but they also have their own individual flavours. Regional cooking that uses plenty of chillies can be very specific when it comes to the right chilli for the right dish.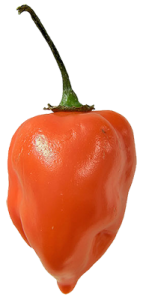 There are many different types of chilli with varying degrees of heat. As a general rule of thumb, the smaller the chilli the hotter it is.
Some of the hottest chillies are Habanero and Scotch Bonnet. These are very similar and look like mini bell peppers; they can be green, red or orange. They are fiercely hot with a distinct fragrant, fruity and slightly acidic flavour and are good in salsas and marinades.
Jalapeño chillies have thick, juicy flesh, are medium-hot and are often served sliced on pizzas. They are very hot if the seeds and the white membrane are left in tact. When these chillies are dried, they are called Chipotle, which is an old Mexican word meaning 'smoked chilli'. Because of their thick flesh, they don't dry well, so they are smoked instead.
Bird's Eye chillies are also known as Peri Peri or Piri Piri and are used in the well-known Portuguese chicken dish. You can purchase these dried and are great for sprinkling into all sorts of dishes.
Chillies naturally contain a chemical called Capsaicin which is responsible for the burning sensation in the mouth when it is eaten. The body reacts by releasing endorphins ~ those 'feel good' hormones ~ which is why it is thought that eating chillies can become addictive. Capsaicin is found in the membrane or septa and the seeds and is not soluble in water but rather in oil and alcohol, which is why it's pointless to drink water with a hot curry. It's better to cool down with milk, yoghurt or beer.
When chopping chillies, it is a good idea to wear gloves because the oil from the chilli can remain on your hands for a while after handling, and never touch your face!
I love the medium heat of chillies ~ I'm not a fan of food that hurts or is irritating to eat (like fish with bones!). Eating food should always be a pleasurable experience so good flavour is paramount. I don't use a lot of chilli in curry because I prefer the flavour of the spices to come through but I find that chilli bolsters the heat especially if the curry is cooled, frozen and re-heated. Some recipes that you might like to try ~ Lamb Shanks with Smoked Chilli and Red Wine, Slow-cooked Beef Shin with Orange, Asian Mince or Spicy Chicken.
Image courtesy of Wikipedia