10th July 2018
Good quality, home-made Chicken Stock is an essential fridge / freezer staple. It's perfect for making risottos and soups as well as many other dishes that may require additional liquid. Take two or three raw carcasses, season them well and roast them in the oven at 180°C until they are well caramelised. Then add them to your stock pot, cover with water and simmer for a couple of hours. This gives the stock greater depth and intensity of flavour.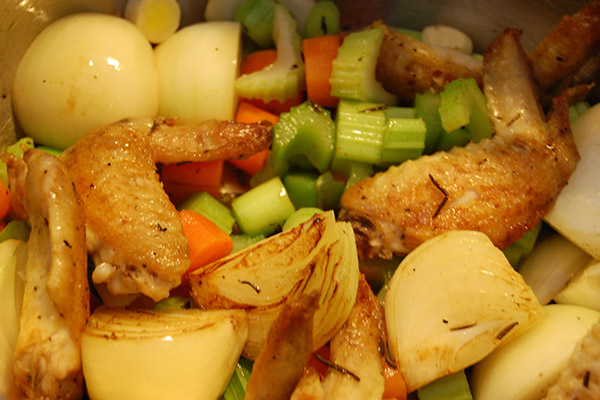 Ingredients
1 tablespoon olive oil
8 - 10 raw chicken wing tips or 2 - 3 raw chicken carcasses, seasoned
1 - 2 onions, quartered
2 - 4 medium leeks, chopped
2 - 3 carrots, chopped
2 celery stalks, chopped
A few fennel stalks and their feathery fronds
Some sprigs of fresh rosemary
2 - 3 bay leaves
2 - 3 whole cloves and juniper berries, each
½ teaspoon black pepper corns
Method
Heat the oil in a large pot
Add the seasoned wing tips and caramelise until golden
Add the onions, leeks, carrots and celery and cook for 6 - 8 minutes until starting to colour nicely
Add the herbs, peppercorns and fennel and cover with water, filling the pot almost to the top
Bring almost to the boil, skimming off any foamy scum that floats to the surface
Allow the stock to simmer for 1½ to 2 hours, skimming periodically if necessary
Switch off the hob and allow the stock to cool
Strain the stock to remove all the solids and refrigerate or freeze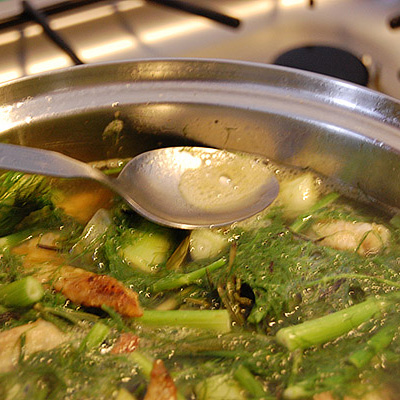 Tips and Suggestions
I use a large pot that makes about 3½ litres of stock with the quantity of ingredients listed.
You can adjust the ingredients to suit the size of your pot.
You can vary the ingredients as you wish ~ add garlic or some sliced mushroom or perhaps some white wine.
Don't add too much salt because the stock intensifies in flavour as it cooks.
If you don't have raw wing tips, use a left-over roast chicken carcass. The result is not quite the same but it still yields good flavour. There is no need to caramelise the carcass as you would the wing tips, so add all the vegetables first and when they have good colour, add the carcass. Follow the rest of the Method instructions to complete the stock.
Notes
VERY EASY
Preparation: Approximately 20 minutes
Cooking: Approximately 1½ - 2 hours
Wheat-free
Allergens: None