Chicken Breasts with Garlic, Leeks & Fennel
9th July 2015
Recipes for chicken breasts on the bone seem quite difficult to find, so creativity was the order of the day ~ chicken breasts baked on a bed of vegetables dotted with butter, simmered in white wine and seasoned generously. The results were wonderful ~ moist, succulent chicken and meltingly soft leeks and fennel ~ fabulous if you're a fennel fan!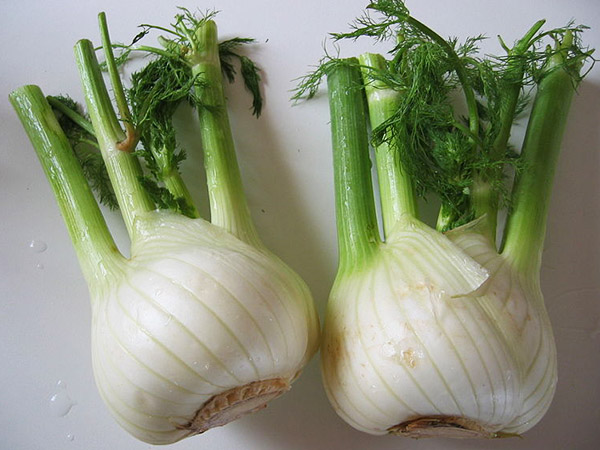 Ingredients
A couple of tablespoons of olive oil
Butter
2 large chicken breasts on the bone, skin on
2 medium fennel bulbs, quartered
3 medium leeks, trimmed and cut into 1cm slices
5 garlic cloves, crushed with a knife, skin on
1 teaspoon of dried sage
60 - 75ml of dry white wine or good chicken stock
Salt and freshly ground black pepper
Method
Pre-heat the oven to 180°C.
Drizzle the bottom of a baking dish with some of the olive oil.
Place all the prepared vegetables in the dish, season with salt and pepper, and drizzle with olive oil.
Toss together so that everything is nicely coated and seasoned and then make sure that the vegetables are spread in an even layer across the bottom of the dish.
Dot with a few of small blocks of butter.
Place the chicken breasts on top with the skin side up and drizzle with a little olive oil.
Sprinkle over the dried sage and lightly season, bearing in mind that the vegetables are already seasoned.
Put a couple of small blocks of butter on top of the breasts and gently pour the wine or stock in and around the vegetables.
Cover the dish with tin foil, shiny side facing down, and place in the pre-heated oven for approximately 30 minutes.
Remove the tin foil and continue cooking for a further 30 minutes until the chicken is cooked and golden and the vegetables are tender.
Remove any garlic skins and let the chicken rest for 5-10 minutes before serving.
Serving
Serve with some plain white rice ~ I prefer Basmati ~ and some steamed green veg or a plain green salad. Pour some of the juices over the chicken and serve the balance separately.
Wine: Chardonnay
Notes
EASY
Preparation: Approximately 10-15 minutes
Cooking: Approximately 1¼ hours, depending on the thickness of the breasts, & resting time
Wheat-free
Allergens: None
Serves 2