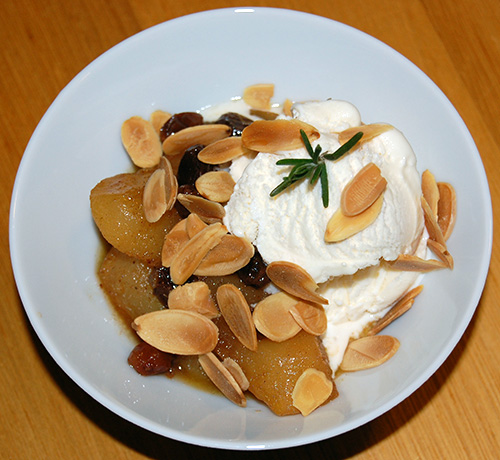 10th July 2014
A quick and easy dessert complemented by a surprising twist of fresh rosemary. Delicious served warm with a scoop of vanilla ice cream and toasted, flaked almonds.
Ingredients
4 firm apples, peeled, quartered and quartered again
A handful of raisins
A couple of whole cloves
½ teaspoon of cinnamon
1 - 2 teaspoons of honey or Demarara sugar
2 teaspoons of butter
A few sprigs of fresh rosemary
Toasted, flaked almonds to serve
Method
Pre-heat the oven to 180°C.
Mix the apples, raisins, spices and cinnamon in an oven proof dish.
Drizzle over the honey and add the butter.
Tuck in a few sprigs of rosemary and cover with a lid or tin foil.
Spread the flaked almonds on a suitable baking sheet.
Place the apple in the pre-heated oven for 20 - 25 minutes, until they are tender but not falling apart.
Put the flaked almonds into the oven to toast for the last 10 - 12 minutes of cooking time.
Allow the Baked Apple and the toasted almonds to cool slightly before serving.
Serving
Serve with a scoop of vanilla icecream and a sprinkling of toasted almonds.
Wine: Good dessert wine
Notes
VERY EASY
Preparation: Approximately 15 minutes
Cooking: Approximately 25 minutes
Wheat-free
Allergens: Lactose, nuts
Serves 4 - 6