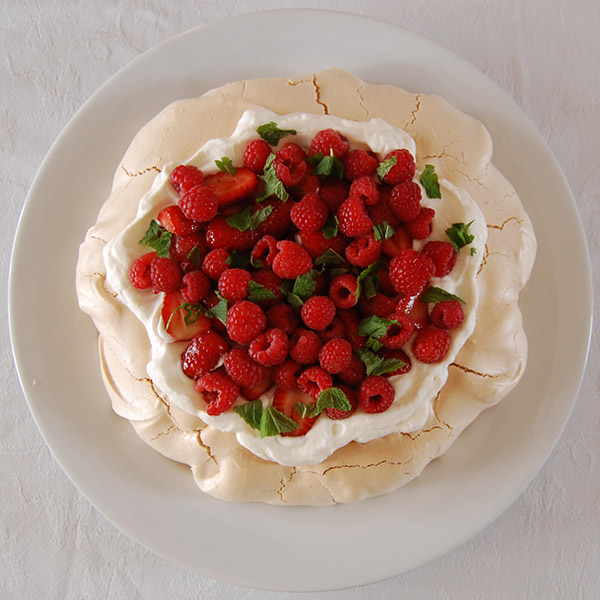 10th July 2018
Always moreish! The meringue is a lovely light, slightly golden colour, crisp on the outside and soft and chewy on the inside. Lots of whipped cream and a selection of berries, both sweet and slightly tart, topped with a sprinkling of freshly chopped mint make this a delightful, summer dessert.
Ingredients
4 egg whites at room temperature
1 cup of caster sugar
½ teaspoon vanilla extract
250ml whipped cream
1 cup of mixed berries ~ strawberries, raspberries, blueberries or blackberries
A few sprigs of fresh, finely chopped mint
Method
Preheat the oven to 120°C.
Line a baking tray with tinned foil that has been lightly greased and dusted with cornflour. Shake off any excess cornflour and mark an 18 to 20 centimetre circle on the foil.
Beat the egg whites in a spotlessly clean and dry bowl.
When the egg whites are foaming and starting to form soft peaks, add the sugar gradually beating well until it dissolves.
Add the vanilla extract and beat until the egg whites are stiff and glossy.
Test by holding the bowl upside down over your head!
Spread the meringue on the foil, building up the sides and leaving a slight hollow in the centre.
Bake in the preheated oven for 1½ hours then turn off the oven and open the door ~ leave the meringue to cool.
To assemble the Pavlova, whip the cream with a teaspoon of caster sugar until thick.
Spread over the top of the meringue and place your selection of berries on top of the cream.
Sprinkle over the finely chopped mint and serve.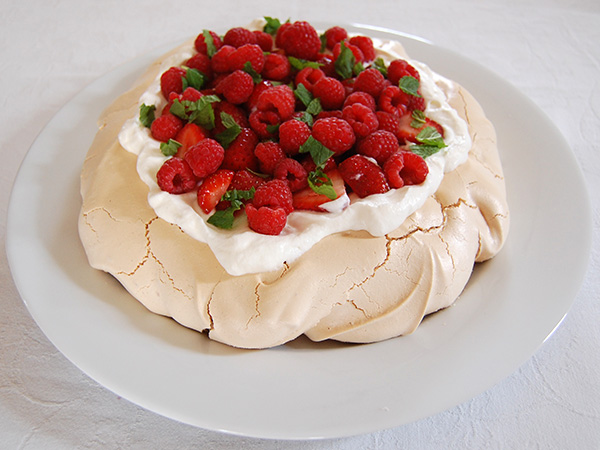 Sarah's Tips
Make sure that the eggs are at room temperature ~ they will whisk better.
Take the berries out of the fridge up to an hour before you use them. I find that they taste better and are juicier at room temperature.
I only assemble the Pavlova within ½ hour of serving otherwise I think the meringue softens.
Notes
EASY
Preparation: 15 - 20 minutes
Cooking: 1½ hours + cooling time + assembly
Wheat-free
Vegetarian
Allergens: Lactose and egg
Serves 6 - 8